Farage: good in parts, awful in others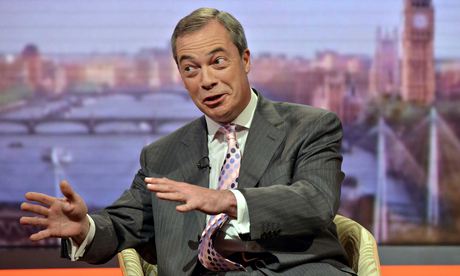 Good comment piece in today's Guardian newspaper. Couldn't help wading into the comments section as per the following:
A more positive interpretation would be that the ineffectual attempts to destroy Ukip show the growing fragility of the carefully crafted management of what is sometimes called "the national conversation". It suggests that in the future, there may be space for a more genuine plurality of ideas, views and politics than the carefully scripted, staged "rough and tumble" without content that masquerades as democracy in the rich world.
I certainly hope you're right.
Farage is a funny and clever speaker on EU issues – this speech is a classic
I would never vote for him though, or UKIP, as on many issues he's the same "free"-market champion as MPs in the Conservative, Labour and LibDem parties.
You could make the same analysis of treatment by the majority media, and the big three political parties, of the Scottish independence question.
This translates into a huge bias towards scare stories about the supposed consequences of voting yes versus a dearth of those that examine either the causes of an upsurge in independent thinking or the very positive possibilities of Scotland's residents voting to govern themselves.
The model of Western "representative" democracy is dead – that's what's at stake in all of this. What we need is a radical reform of our existing systems – something that will need radically different media for us to do so.
Declaration of interest for moderators – I've written a book about the very same, as hotlinked in this post.